posted on December 01, 2020
posted by Beth Gallimore
---
Standeven's 'Everest' is the 100% Finest Cashmere Cloth
Winter cloth 'Everest' is made from the luxurious fibre to create the most 100% finest cashmere cloth.
Standeven's most luxurious bunch 'Everest' is ready in time for winter. This comprehensive cashmere collection contains exquisite cloth in three different weights (300, 470, 500gms) suitable for all apparel wear. We feature all the staple classics you could wish for and attractive fashion colours in a comprehensive bunch of 27 cloths.
Added to the bunch this season is a new 100% finest cashmere cloth with a soft handle perfect for creating jackets that will help you transform your winter wardrobe. In a 300gms weight the plain twill cloth is available in a range of colours from staples like grey and brown to lively fashion colours like plum and moss green.
The core cloth in this collection is a 470gms 100% cashmere coating available in 13 colours. This includes the classic shades of grey, blue, black and beige as well as contemporary hues of teal, forest green and a clean, crisp white.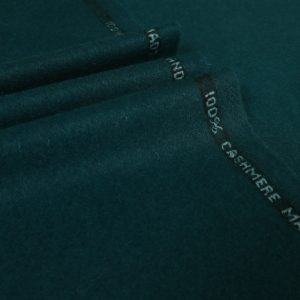 Lastly, the final cloth in the 'Everest' collection is a deluxe ripple finish cashmere in black, dark navy and charcoal grey. The ripple finish is created by using the seed heads of the teasel plant. These small conical seed heads are naturally spiky and are rubbed against the cashmere's surface. This technique provides a luxurious lustre finish and soft handle.
All made from the finest cashmere fibre the cloths are ready to order now in cut lengths with immediate availability.
back to news